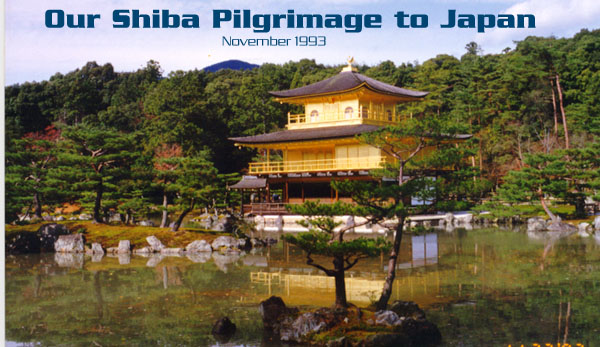 My husband, Tom and I have had Shibas since 1989 when a Japanese friend of mine and fellow breeder and exhibitor of Miniature Schauzers was visiting us and asked if I would be interested in trading one of my Miniature Schnauzers for a Shiba Inu. We had seen a couple of Shibas at the 1986 Expo Shows in Vancouver, B.C. and had thought they were a nice looking breed. I told him "maybe I would". After he left I started asking around to find a breeder so I could find out a little more about the breed. In the meantime, my Japanese friend, Hideo Takahashi, arrived home on a Tuesday, called me on Thursday, and said "You're Shiba puppy is arriving on Monday at the Portland, Oregon airport". Oh, my. What could I say?
Anyway, that's a whole different story. After having several litters of Shibas and showing them for a few years, importing several more through Hideo, talking to Shiba breeders who had been to Japan, and many who hadn't, and reading ads for "the ideal Shiba", I still didn't have a feel for the essence of this breed. When we were looking for stud dogs, we didn't have a feel for what we were breeding towards. Hideo had several times invited us to come visit him, and last year we decided it was time to make the pilgrimage to the land of the Shiba Inu.
Planning Our Trip
Hideo found out when the Nippo National Specialty was being held. The show was on Saturday, November 20 and in the city of Chiba near the Tokyo Narita airport. We decided to spend two weeks in Japan, starting off with the National Specialty, then maybe travelling to other places and visiting some Shiba breeders.
It wasn't until we were getting our passports that I realized that neither Tom nor I had ever before been out of North America. This would be a real cultural and language change. My many years of Spanish in school wouldn't help, and even the year of Japanese I'd taken at the community college wouldn't help much.
We were able to get a direct flight from Portland, Oregon to the Narita airport just outside of Tokyo. Even being a direct flight, it took 11 hours to get there. After going through customs we were greeted by Hideo and his friend Mr. Horikoshi, a Siberian Husky breeder, whom we had met two years previously when he and Hideo had visited us. It was evening and dark outside as they drove us to the city of Chiba, to a hotel there. We deposited our luggage and went to Mr. Horikoshi's restaurant where we had shabu shabu, a wonderful dish of very thinly sliced beef which you boil along with sliced vegetables at your table. After that, we went to another restaurant for sushi. I think all the Japanese we met on this trip were pleasantly surprised that we liked Japanese food and could even handle hashi (chopsticks), so they took us to some wonderful Japanese restaurants.
On our way back to the hotel, Hideo informed me that he had a JKC dog show the next day so Mr. Horikoshi would take us to the Shiba National. Hideo speaks passable English, but I didn't even know Mr. Horikoshi could speak English! Actually, as we found out the next day, he spoke very little.
Tom and I were wide awake the next morning at 4:00 a.m. (noon Pacific Standard Time). We finally got up about 5:30, and Tom went to the hotel restaurant for his mandatory cup of coffee. There reality hit Tom - the china teacup of coffee was about $4 - no refills. We took leisurely baths (a wonderful Japanese custom) and waited for Mr. Horikoshi. He arrived with a friend and we headed for the Shiba National in his van (sliding door on the left side of the van). We drove and drove, and of course there were no freeways to take. Mr. Horikoshi and his friend kept looking at a map and we hoped they weren't lost.
The Nippo Specialty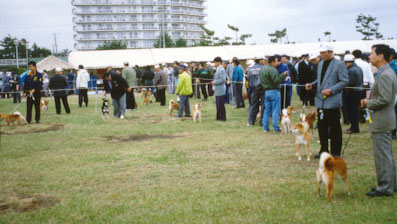 Finally we arrived at the show about 9:30 a.m. The show site was over a short sand dune from the Pacific Ocean. The weather was very cool, overcast, and windy. Our first impression as we drove onto the show site was the sheer numbers of Shibas - 624 entries, and from an overall view - they all looked alike! We had come to Japan to find the essence of the Shiba and you could see it in almost every dog there. I thought to myself, "of course, this is what the Shiba standard is talking about. The second impression was that they were red and white dogs, plenty of leg without being shelly, good overall conformation, and were very uniform looking. Obviously, you could sort them out when you got to studying the individual dogs, but there was an overall look in all of the 624 dogs there which you don't see at the AKC shows.
There were about 20 rings all going at once - what do you look at first? We wandered from ring to ring and took pictures and videos and more pictures and videos with the video camera we bought just for this trip. We watched the Shibas having their teeth examined, which is a sight, since many of the Shibas don't particularly like having their teeth examined, and the judge just puts up with their antics.
We were surprised to see a Japanese Miniature Schnauzer breeder that I had met at the Montgomery County, Pennsylvania terrier shows a couple of years ago. With him was a Caucasian, the first we had seen since arriving in Japan. His name was Roy Mulligan, a Shiba breeder from England. This was his tenth trip to Japan! We saw him many times that day and the next at the JKC show we attended.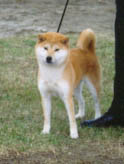 Mr. Horikoshi didn't know anything about Nippo shows, and with his limited English was very little help in explaining exactly what was going on. We wandered around, taking photos and videos of dogs who were placing in their classes and some who weren't. Mr. Horikoshi was also wandering around talking to people he knew, and a few times he came back to us and told us to watch a particular dog because he was a good one.
They had only one concession stand with dog supplies, and the supplies were limited to collars, leads, and a few books. The collars that most dogs were shown on were black, rolled leather collars, but with no leather seam on the inside. They were priced between $40-$50 apiece. Most of the dogs there were shown on heavy, round braided 6' or so length leads with a clip on one end and a tassle on the other. Most were black, but there were a few other colors. I was especially taken with the purple ones. The vendor only had black leads, and one gold one. The colored ones were silk and $150. We bought a cheap black one for $43. There were two hard-back books for sale which we found out were the Nippo yearbook. One was the current book and the other was the year before. We bought both for $45 each. Those books have been wonderful to look through. Almost all the photos are in color, and you can get a real feel for the breed in those books. Of course every dog isn't a great one, but there certainly are some nice ones in there. Many, we found out later are from Taiwan.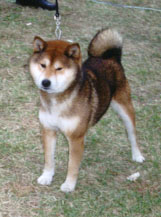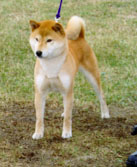 About 2:30 in the afternoon, we noticed that there were a lot of people gathered around one ring, so we went over to watch. There were 3 nice males in the ring, two reds and the most gorgeous sesame I have ever seen! One of the red dogs won, and everyone started leaving ... that was the Best of Breed dog and we hadn't even known they were judging Best of Breed! Fortunately we had lots of photos and videos!
The next day we went to a JKC all-breed show. Hideo had 5 Miniature Schnauzers entered and won Best of Breed in Miniature Schnauzers in 4 age classes, and every one needed to be shown in the group judging. He asked me to show a 9-12 month puppy dog who was out of my stud in the group. We won Group 1, then Best 9-12 Puppy in Show, and then Best Puppy in Show. It was a wonderful experience, and everyone was very hospitable.
Visiting Other Japanese Shiba Breeders
A couple of busy days later, we visited a Shiba kennel near Tokyo in Hachioji. They lived in a suburban home on probably less than 1/4 acre. We drove in their driveway, and were startled to see two Shibas, lying on the back porch, completely unincumbered by leash or pen. They barely managed one glance at us before they went back to their business of sleeping. They looked like Shibas, but the didn't act like Shibas!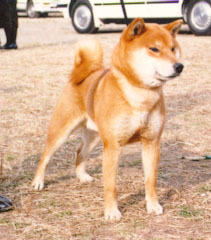 We walked into their back yard (unfenced), where they had several older puppies (4-6 months) in 30-inch exercise pens! Again we were amazed. The breeders were very gracious, spoke no English, but with Hideo's help showed us most of their dogs. Again, we were impressed with the color of the dogs. All were very red, with distinct white markings. We got to see Kadotsukasa of Oshima Yasudasow (Ichi), the grandfather of one of our bitches. He was about 8 years old, and a lovely dog. We also saw a beautiful black and tan dog. We were told by his breeder that they didn't show him - he was too exaggerated, but they used him for breeding. When we look back at our photos and videos now after we've learned so much more, we can see what they mean. But many times it's those exaggerated dogs that make the best producers.
We walked into the room where they kept the bitches in metal crates, and no-one barked! We were continuously amazed. They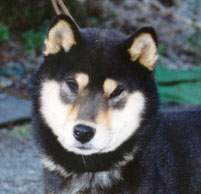 had some lovely bitches, all red, but the quality was really in the dogs; in Ichi, his son Taka, and the black and tan dog. They were lovely. and they all seemed to have that special Shiba "presence" about them. We then proceeded to another breeder's shop a few miles away. In Japan, many breeders sell their dogs through their own pet shops, which is certainly an entirely different arrangement than in the U.S. The breeders have their own store and all they sell is their own dogs, but they use it as a means of access to the pet-buying public. The puppies we saw at the pet shop were the ones he was selling for pets; the good ones stayed at home. We had a delightful time here, talking to the breeder, asking questions, and getting lengthy answers (only part of which was translated for us). He evaluated in detail many of his puppies for us, which will help when we evaluate our own puppies.
He explained about the slant of the eye, and how a line drawn through the corners of the eye and extended to the ear should intersect with the middle of the lobe of the ear, and that how the Kishu should intersect just at the top of the lobe, and the Akita should be at the bottom of the lobe. He showed us a dog with a good harsh coat . It seemed to be almost all guard hair and very little undercoat. He said you could tell what the quality of a puppy's coat would be by rubbing the hair backwards in the area between its eyes. If it was harsh there on a puppy, it would have a good coat as an adult. He told about the proportion of the ear to skull (see drawing). We learned so much, and they were so kind to spend the time with us. It really was a wonderful experience.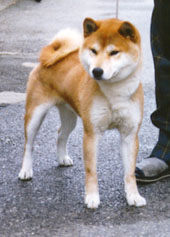 The day we left for home, we visited with Mr. Tanaoka, another Shiba breeder on the way to the airport. He brought out a number of his males for us to see (1 black/tan, the rest reds). They were all lovely but there was one red that we really liked. On asking him which one he favored, it was the one we also liked. I guess we were learning! The one we liked second best we found he had purchased as an adult for $30,000. Not an unusual price for a good adult male Shiba purchased within Japan..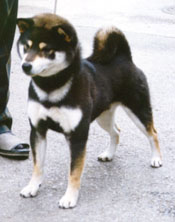 The experience was exactly what we had hoped. We now have a good idea of the type of dog we are looking for - the essence of the breed that had proved so elusive to us here in the U.S. We have spayed and neutered and are placing most of our original dogs, and starting over again. Hideo, by escorting us to the Shiba breeders homes, and translating for us, learned about Shibas, too. He has sent us a lovely bitch, Beni, a great grand-daughter of Ichi, with which we started again on our new breeding program. She now has 2 champion sons, one of which is our new champion, Ch. Abiqua Devil in Disguise (Seiko).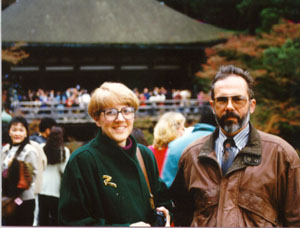 ---
Abiqua Shiba List | Abiqua Shibas Homepage | Abiqua Home Page
---
Last updated September 02, 2005
Created by: Chris Levy

Copyright © 1997 Abiqua Kennels
All Rights Reserved