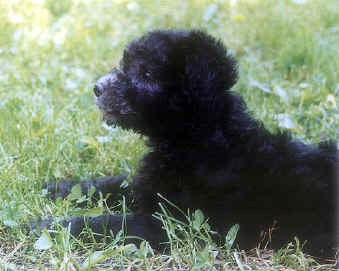 Pumis are very rare in the United States - there are maybe 100 here, and there have been very few litters born. We can refer you to anyone with a litter if you'll email us. Chances are you'll have to wait for months for a puppy. The other alternative is importing one from Europe, but that is quite a bit of work. We can also refer you to good breeders in Europe.
However, before you buy a puppy, at least in the USA, because this is a relatively new breed without a lot of history, the parents of anys puppy you buy should have some basic health checks. This is very important because we don't know enough about hereditary diseases in this breed. The breeder may also ask that you have your puppy checked for certain problems as it grows up so that we can catch any problems that might occur as quickly as possible and retire the parents from our breeding program.
Because this is a rare breed with a limited gene pool, it is imperative that every breeder and every owner take the health of this breed seriously. These are the health checks that we recommend before breeding and you should ask about the parents of the puppies:
Ask to see the certification by the Orthopedic Foundation for Animals (OFA) that both parents are certified to be clear of hip dysplasia. (We already know this occurs in the Pumi.)

Ask to see the certification that the parents have had a recent (within one year) exam of their eyes by a certified Veterinary Opthamologist (VO) and declared normal.

Ask to see verification that the parents' heart were checked for heart murmurs after they were 4 months of age and were normal.
Please help us keep this breed healthy, and at the breeder's request, get your puppy checked, too, as it grows up.
Any puppy you purchase should have been wormed and be current on their vaccinations. They should be microchipped, but if they're not, please get them microchipped as soon as possible after you get them. Because this is a rare breed, anyone who found a loose dog would probably think it's a mutt!
You'll be in for a real treat, being owned by a Pumi!
!